Blade & Soul is now live! You can download it for free here and start playing!
Yujung

Yujung is Lusung's older sister. She lived with her mother, father, and younger brother until she died working in the mines. She left her special engagement present from Lusung with Miryung, her best friend.
Yujung was in love with her neighbor, Yu Jungwon's son Hangwon, for a very long time. She excitedly prepared for her wedding, her younger brother Lusung describing her happier than she'd ever been. Lusung presented her with a small hand mirror as an engagement present which she gladly accepted, asking that Lusung continue to be good, even if she is not around.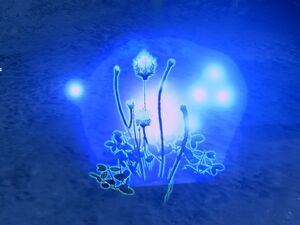 When the Stratus Empire Colonel Yonkai was assigned to the region, he visited Sandstone Refuge, immediately taking a liking to the beautiful Yujung, and demanded her for himself. Rather than marry the fat, mean Yonkai, she and Hangwon fled into the desert in order to be together. Yonkai captured them and had Hangwon executed.
Even with her fiancee dead, Yujung refused to marry Yonkai. In anger, he sent to her to work in the mines at the Yonkai Excavation until the end of her days. Yonkai forced Hangwon's father to work in the mines alongside her and executed Yujung's parents, leaving their bodies to rot at the edge of town.
Lusung had attempted to break Yujung out of the mines, ultimately failing and fleeing into the desert himself. Yujung eventually took her own life out of despair by the bodies of her parents. A mysterious flower of her favorite variety grew from where she died that appeared to be crying.
On the anniversary of her death, Lusung returned to Sandstone Refuge to exact revenge upon the villagers which he felt were responsible for his family's misery. He is drawn to the village as Yujung's spirit never fully moved on. Dokdan suggests that the hero take the mysterious flower and place it in the urn at Lusung's house to help put Yujung's spirit to rest.
She appears before the hero noticing that they are from the Hongmoon School just as her brother was. After thanking the hero for properly burying her parents' bodies, she explains that her spirit did not leave her body well. She feels that she is still there to watch over Lusung or perhaps repent for misdeeds done during her lifetime. But when Lusung fell to the darkness, she could no longer stay in the shadows and revealed herself to ask for help. She knows that Lusung can be saved from evil and that the hero can help by leading him out of the place strangled by the Dark Realm. She suggests that the hero find a trace of Lusung to help lead the hero to him before she fades away again.