Wings of Mushin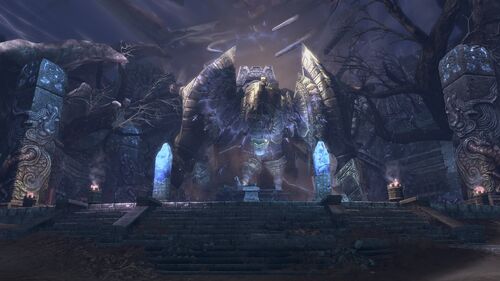 The Wings of Mushin refers to a giant, automaton Roc bird which when the Silver and Golden Crests are presented by Mushin's Heir, the bird will fly them to Mushin's Tomb containing Mushin's Legacy.
The hero discovers an ancient Naryu text in the Shadowmist Keep containing a poem referring to the Wings of Mushin:
With a bright golden brilliance and a thundering sound
The Wings of Mushin burst up through the ground
It flew across all of man's domain
Until it found one worth of its reign
Mushin rode the beast so free
Lighting up a world shrouded in Dark Chi
When Mushin fell from the world of men
His Wings laid rest in the sands again
The Wings wait now, stiller than a tree
Until the Chosen brings forth the key
Ah, Lo! Master of high and low!
The Wings of Mushin!
Oh, Lo! Bask in its golden glow!
The Wings of Mushin!