Blade & Soul is now live! You can download it for free here and start playing!
As part of the Unified Community Platform project, your wiki will be migrated to the new platform in the next few weeks. Read more here.
Tyrian Cult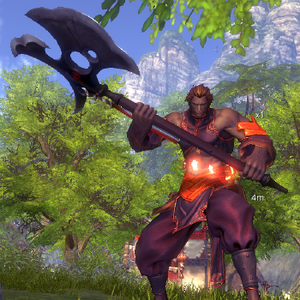 The Tyrian Cult is a corrupt group within the Stratus Empire, dabbling in all sorts of illegal activities including kidnapping and smuggling from their base in the Wraithbloom Meadows in the Tomun Range.
The Tyrian Cult has different groups of members including:
The Tyrian Cult is known for their use of Wraithbloom Flowers which has long lasting, hallucinogenic effects on anyone that breaths in the toxic fumes.
The Tyrian Cult had long preached the coming annihilation of humanity but largely kept their dealings within their own compounds. However, when Gwihan, a member of the Stratus Royal Court, was outed for his corruption, he took Mushin's Compass and fled the capital. He quickly took control of the Tyrian Cult and began using the hallucinogenic Wraithbloom flowers to enslave new recruits.
Tyrian High Cleric Gwihan has the Cult attack Oakshade Village, Stratus General Han Sirang's home, in order to stop the Stratus Army from stopping their actions.
Due to a prophecy that a woman would come to kill Gwihan, the Tyrian Cult kidnaps people from all across the Tomun Range, the women are separated and brought to the Sacrificial Chamber where they are used as sacrifices in their rituals.
The Stratus Royal Court sends undercover Operatives to investigate the Tyrian Cult and their use of slave labor provided by Colonel Yonkai.
The hero manages to burn down the Wraithbloom fields during the Stratus Army raid of their base but they are quickly replanted later on.