Blade & Soul is now live! You can download it for free here and start playing!
As part of the Unified Community Platform project, your wiki will be migrated to the new platform in the next few weeks. Read more here.
Ancient Relic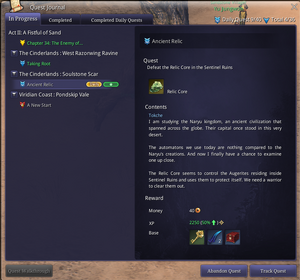 In this quest, players must defeat the Relic Core in the Sentinel Ruins
Picked up from Tokche in Sandstone Refuge
Tokche I am studying the Naryu kingdom, an ancient civilization that spanned across the globe. Their capital once stood in this very desert.
The automatons we use today are nothing compared to the Naryu's creations. And now I finally have a chance to examine one up close.
The Relic Core seems to control the Augerites residing inside Sentinel Ruins and uses them to protect itself. We need a warrior to clear them out.
Money 40 copper
XP 2250
1 Key
2 Cinderlands Thorns
1 Cinderlands reward chest