Blade & Soul is now live! You can download it for free here and start playing!
A bump in the road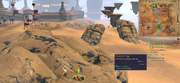 A Bump in the road (Daily quest)
Gather Desert Bat Eggs
Contents
Orpun Yehara's Mirage is quite a famous inn, I guess I could try becoming a chef there.
Gather Desert bat eggs and take them to the head chef at Yehara's Mirage. Bat eggs are a rare culinary treat. I'll be accepted in a heartbeat.
Rewards Money 25 copper XP 700